LARTA's Guide to Buying Antique Rugs plus Decorating Tips and Choosing the Right Sized Rug for a Room
Guide to Buying Antique Rugs
1. Is the age of an antique rug important? Antique rugs and carpets are ideal for period settings, but can also look spectacular in modern environments. Up to around 1850, all rugs and textiles were produced using natural dyes. These dyes survive the generations well and often result in rich and harmonious colour ranges. After 1850 chemical dyes began to be employed gradually and by 1900 many rugs were woven with inferior chemical dyes which can either look harsh or insipid. Look for antique rugs with natural dyes.
2. Does the quality of the weave matter? It depends on the item. The first point one must consider when looking at any antique rug or textile is whether it is beautiful. Is the design well drawn, does it have balance? Are the colours beautiful? Then one can consider the quality of the weaving.
3. Is condition important? Some wear and restoration is acceptable on antique rugs, especially those which have survived from the classical period pre-1800. However, the condition of an antique rug is extremely important in determining its value. Ask the dealer or retailer what restoration has been undertaken, in particular whether the ends have been restored, and how much re-weaving has taken place.
4. What is abrash? In antique rugs one often finds variation in colour known as 'abrash'. This is a result of same-colour wools used in a rug that were dyed in different batches. If the contrast is not too strong, abrash creates an attractive subtlety of colour variation and is highly prized by collectors and decorators.
5. Where should I buy? Major auction houses have occasional specialist sales. However, buying from a good and reputable dealer has advantages. Experience and knowledge is available, and most dealers allow clients to view items in situ at home – a huge benefit. Specialist dealers' fairs are also an excellent way to compare and contrast a wide choice of similar items.
6. Are antique rugs and textiles a good long-term investment? First and foremost, buy pieces for their beauty and decorative appeal, and then consider the investment potential. Some groups of carpets, such as those made before 1800; certain tribal weavings such as Turkoman rugs, and some suzanis have proved to be very good investments in recent years. Fine Persian silk rugs have also risen sharply in value in recently. Discuss the investment potential of any item you are considering with a specialist dealer.
7. How do I choose the right carpet? It is important to remember that there is a carpet for every setting and every budget. A useful first step is to decide whether you want your choice to be a statement, or to be discreet and understated. That will immediately dictate certain colours and styles and even the size. It is generally easier to furnish with repeat designs than with a carpet that has a central medallion design. Pale carpets are generally more understated. A dealer will be able to advise you on all these matters. When actively looking for a rug for decoration, be sure to have your room dimensions with you!
8. Furniture on or off the rug? Rugs and carpets, whether antique or modern, can transform a decorative setting. Dealers are sometimes asked: "Should I put furniture on my valuable antique rug". Experiment with the placing of furniture to see what creates the best impression. However there are some general rules a decorator might suggest.
Tips on Choosing What Size Rug and How to Place in a Room
For a sitting room
If you want to cover as much of the floor as possible, choose a rug that is large enough for all the legs of a sofa and the facing chairs in your main conversation area to sit on the rug. (All legs on rug.) For classical proportions in an enclosed room (rather than open-plan), you want about 18 inches of bare floor left around a rug. In a small room this rule is more successful if the 18 inches of bare floor exposed around the rug is reduced to about eight inches.
Otherwise, choose a rug size that allows the front legs of the sofa and chairs sit on it, but not the back legs.  (Front legs on rug.)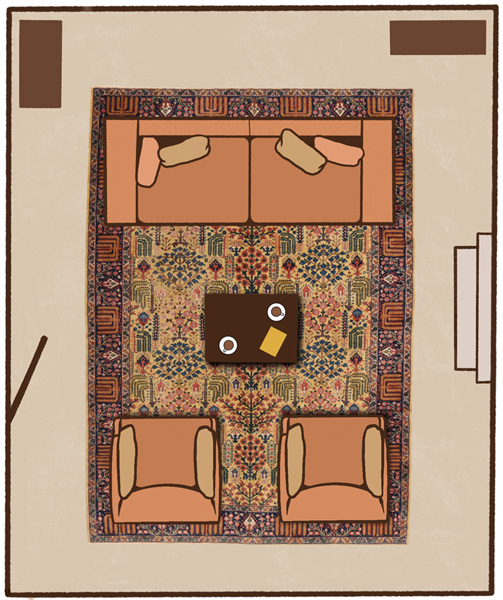 Large rug furniture placement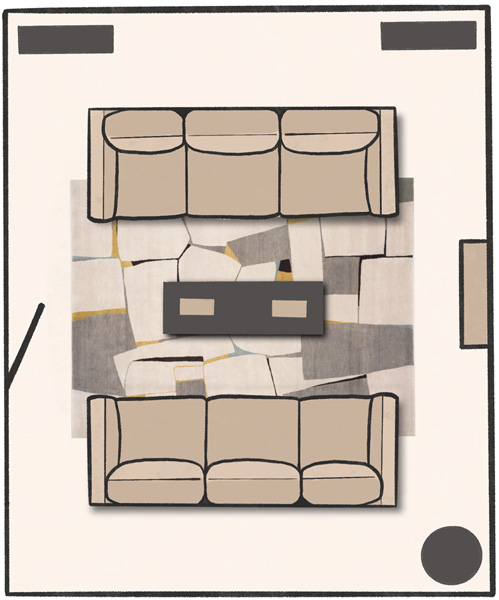 Medium rug furniture placement
Or a small rug should sit in front of the sofa and chairs, either with no legs on the rug, or with just the front leg or legs of the chairs sitting on it. (No legs on rug).
In a very large room: consider multiple seating-area rugs, effective when two rooms have been turned in to one and there is space for more than one seating arrangement.
For a dining room
Size: A rug should be large enough that all chairs can be moved back from a table without leaving the rug edge. Better to have no rug than one your guests snag their chairs on whenever they draw up to the table!
Shape: If you have a rectangular table, use a rectangular-shaped rug.  If you have a round table, use a square or round-shaped rug.  If you have a square table, use a square shaped rug.
For a bedroom
Under the bed: Extend the rug 12-18 inches around a bed; at least 18 inches for a king or queen-sized bed and at least 12 inches for a double or twin bed. Depending upon the size of the room, extend further if you want, but not less: the rug will look insignificant if covered mostly by the bed.
At the foot of the bed: A smaller rug can be very effective placed at the foot of a bed. The rug width should extend beyond the width of the bed to feel balanced.
Pairs of rugs can often look very good in bedrooms.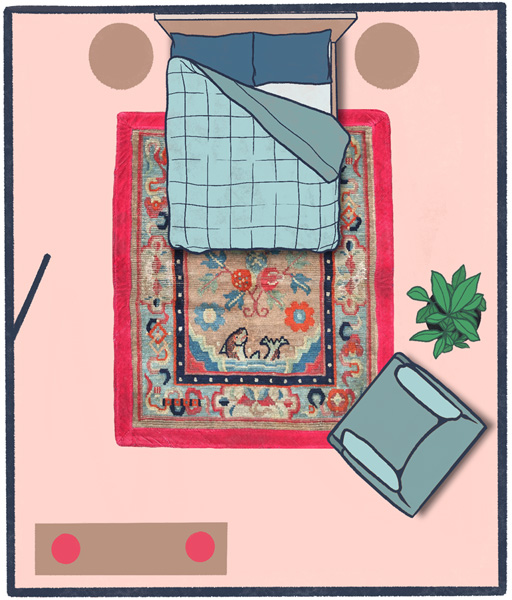 Extend a bedroom rug at least 12-18 inches around a bed
NB The term RUG or CARPET entirely depends on size: up to 8ft x 5ft (2.40 x 1.50m) is generally called a rug, above that it is a carpet. (In America all hand-made rugs and carpets are called rugs, whereas a carpet is a machine-made wall-to-wall fitted carpet.)
Carpet Dealer Terminology
What is a KILIM? (The spelling varies in different parts of Asia)
This is a generic term for a flat-woven rug or carpet, i.e. it has no pile or nap. Kilims are made across all carpet-weaving countries. In India they are known as dhurries. In Iran: ghelim, in Turkey: kelim. There are subtle variations in style and complexity technique, but essentially a kilim describes the product of weaving a weft over a warp for a flat finish.
There are other types of flat-weave: a VERNEH features embroidery applied on top of the kilim, generally made in the Caucasus region; a SOUMAK, made in the Caucasus and Iran, has a more complex technique of weaving than a kilim that enables the weaver to make intricate and refined designs
General terms used to describe TYPES OF RUG
Wool rug; silk rug; kellei (a long carpet, wider than a runner, up to 6-8ft wide, used in Asian style dwellings); runner; prayer rug; nomadic rug; village rug; city rug; court rug.
The Four Main Categories of Rug
Carpet and rug weaving falls in to four broad categories:
Court weaving – This term refers to carpets and textiles made by rulers in the East in their own court workshops to a very high standard, usually before 1800. More often than not, artists were involved in the creation of designs alongside master weavers and dyers. Many great examples have survived in both private and public collections. Among the earliest known pieces are the great Seljuk carpets from Anatolia dating to the 11th century and 12th centuries. Today, these masterpieces of woven art are only to be found in Turkish museums. Later court carpets from the Ottoman period in Turkey have survived in large numbers and often appear on the market. Likewise in Persia, carpets made before 1850 are extremely rare. However, Safavid courts from the 16th century to the 18th century can be seen in collections, some of which are considered among the greatest carpets ever made. Great carpets and textiles were also woven in the courts of India during the Moghul period and there were also famous Imperial workshops in China. Court weaving is not limited to the Eastern cultures. In France, Louis XIV had the Gobelins workshops weaving rugs and tapestries. In Russia there were royal workshops in St Petersburg making for the Czars, and in fact Russian aristocrats and monasteries also had workshops on their own estates.
City rugs & carpets – this term refers to rugs and carpets woven in organised urban workshops under controlled conditions; weavers follow patterns, whilst supervisors ensure high quality control. Generally, these rugs are well- produced with formal designs that have been drawn as cartoons prior to weaving. Some great weavers in Persia and elsewhere are associated with the finest workshop rugs made in the 19th century including the Persian master weavers Mokhtashem in Keshan and Haji Jalili in Tabriz. In the 20th century, the master weaver Amoghli from Mashad was known for producing woven masterpieces, and the family Seirafian from Isfahan have produced high quality rugs for generations.
Village rugs – this term refers to rugs woven by individuals and their families in rural settings, with or without finance from an entrepreneur; they were made both for domestic and commercial purposes. The weaver usually follows their own pattern traditions which may have been passed down through generations. Village rugs are very often charming and can reveal the weaver's own ideas, their own interpretation of designs or individual ornaments. Many wonderful examples have survived from Turkey, Persia and elsewhere.
Tribal or nomadic – Nomadic life was a fundamental part of eastern civilisation for millennia. Tribal groups would migrate with their animals and chattels between winter and summer quarters, often living under the harshest conditions. Weaving was a fundamental part of the material culture of these peoples, the products used as covers, saddle bags, rugs for the floor and walls of their tents. In addition, they would weave items to sell in the markets or to barter. The designs on tribal weavings often convey primitive spiritual beliefs or alternatively, they can be decorated with charming depictions of nomadic life with images of animals, trees plants and flowers. Today the best weavings of several tribal groups are considered to be highly collectible.