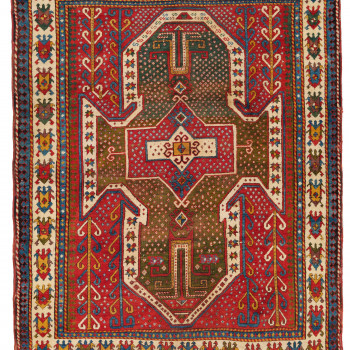 JAMES COHEN ANTIQUE CARPETS
---
Welcome to my page on the LARTA site and thank you for looking. My aim here is to show a small selection of the very best tribal and decorative carpets available on todays market. I believe in quality over quantity and I hope it shows!

I have been working in the antique rug world for over 30 years now, and apart from a brief stint working in America for a very well known dealer there, I have supported myself only within this sphere.

I have exhibited in every major worldwide show featuring antique rugs and I have specialised over the decades in helping collectors build their collections, and private individuals to find just the right antique carpet to furnish their home.

My criteria for a good rug are, great colour, great design, great patina and great condition. Of course, not all of those things are always possible at the same time and a lot of my clients don't mind certain pieces showing some light wear- it can even add to the 'look' and definitely helps with the price.

Please have a look at my listings here and if you don't find exactly what you want, I am happy to look on your behalf.
---
Park Royal Oriental Carpet Centre
1 Chandos Road, unit 11 second floor
London
NW10 6NF

Contact: James Cohen
+44 (0)7747 610 248

www.jamescohencarpets.com
www.instagram.com/james_rugs/