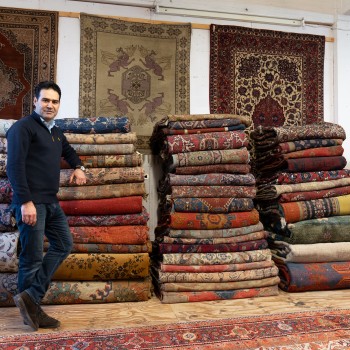 EBI SHAFAGH CARPET RESTORATION STUDIO
---
A carpet restoration studio using age-old inherited tradition and technique, guaranteeing the quality your carpet held ages past returns and remains.
We at Carpet Restoration Studio are a well-established team of experts specialising in the professional hand cleaning, repair and restoration of oriental rugs, carpets and tapestries. Being a family owned business, we know the struggle a family goes through to maintain their prized furniture, and Carpet Restoration Studio could be the key to maintaining your healthy household.

We pride ourselves on our unrivalled reputation and personal service tailored to each of our clients' requirements, and we strive to make your oriental carpet look pristine and untouched.

Carpet Restoration Studio will offer advice on the cleaning, repair and care of your carpets and understand how important these cultural masterpieces are to you and your family - be it a small tribal rug or a large decorative room sized carpet - we're here to help ensure that it stays vibrant and beautiful for many years to come, with little hassle.

We offer a free uplift, delivery and lay-down service 24/7, even offering evening and weekend appointments to suit your needs.

---
Unit 5, 1 Chandos Road
London
NW10 6NF

Contact: Ebi Shafagh
+44 (0) 7961 885 349

ebishafagh.com
www.instagram.com/shafaghebi/

TAKE A VIRTUAL TOUR OF OUR SHOWROOM